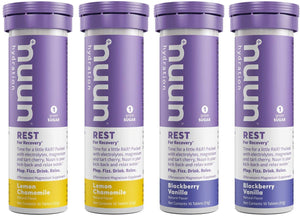 Nuun Rest: Rest and Recovery Drink Tablets, Magnesium Citrate, Tart Cherry, Electrolytes - Lemon Chamomile + Blackberry Vanilla - 4 Tubes (40 Servings)
Regular price $22.95 Sale
Nuun Rest is a Nutrient-Rich, Relaxation & Recovery drink tablet (10 per tube). Nuun Rest is enhanced with magnesium, tart cherry extract and potassium, which promote a more restful night of sleep. Mix with 4-6 oz. of hot or cold water and enjoy.

Nuun Rest was created as an aid to promote restfulness and recovery. Nuun Rest is an effervescent tablet designed to help promote calmness of the mind and body. Take one tablet before bed to help prepare for a more restful night of sleep.

Nuun Rest Drink Tablets should be used for both mental and physical relaxation. Whether it's for: bedtime routine, rest days from workouts or general stress reduction.

Nuun's Drink Tablets use no artificial flavoring or sweeteners (sweetened with high-quality Stevia only) and are keto-friendly. Nuun Rest is designed with Non-GMO ingredients for clean, guilt-free hydration and recovery.

Magnesium helps restore the body to a restful state, and the brain to slowly ease nerve functions. Tart cherry works to reduce inflammation and muscle soreness. Potassium supports muscle relaxation and prevents cramping.

Swirl while you sip! Some settling and residue at the bottom of your cup is perfectly normal—it's just some leftovers from our magnesium blend. It's perfectly natural and should rinse right out with warm water.