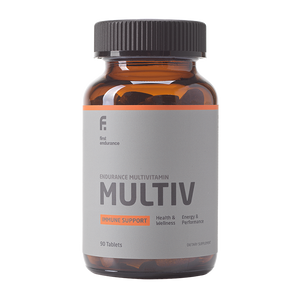 First Endurance Multi-V | 90 Tablet Premium Multi-Vitamin 30 Day Supply by 1st Endurance
Regular price $54.95 $54.95 Sale
First Endurance Multi-V is designed to meet the unique requirements of endurance athletes. Features include clinically effective doses of iron, vitamin K2, vitamin D, and unparalleled antioxidant protection.
HIGH-POTENCY ENDURANCE MULTIVITAMIN
KEY BENEFITS
✓ Maximizes Recovery
✓ Improves Circulation and Muscle Function
✓ Increases Oxygen Carrying Capacity Endurance


Multi-V is the only multivitamin that contains a patented enzyme blend that's been clinically proven to improve carbohydrate utilization and increase time to exhaustion by 43%. You won't find this in any other endurance products.


Clinical studies on elite cyclists demonstrated how these enzymes break down multi-chain carbohydrates into simple glucose. What's really unique about these enzymes is that even with this fast breakdown of carbohydrates, insulin sensitivity is blunted. With no insulin spike, your blood sugar remains elevated for many hours so it can fuel working muscles and improve performance.


Multi-V fuels your body with the right nutrients to help you push through the toughest workouts and reach your peak performance. Benefit from optimized nutrition and fast recovery with the power of Endurance Multi-V. Get ready for longer and stronger workouts and improved endurance performance!