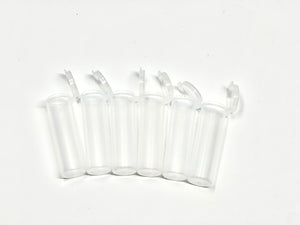 Race Ready Tubes for SaltStick Fast Chews, Pack of 6
Regular price $12.95 $8.95 Sale
Maximize your performance with Race Ready Tubes from SaltStick! Each of these six convenient tubes, perfectly holds nine SaltStick Fast Chews tablets specifically designed to help you power through your toughest races. Conquer the competition with Race Ready Tubes! Get this item FREE when you purchase any SaltStick product.
Yes, Saltstick Race Ready Tubes are designed to be used exclusively for Saltstick FastChews. The tubes are made of a soft, pliable material that makes it easy to squeeze out the FastChews, and they have a resealable lid that keeps the FastChews fresh. The tubes are also small and lightweight, so they're easy to take with you on the go.
Saltstick FastChews are a convenient way to get the electrolytes your body needs during exercise. They're made with a blend of sodium, potassium, and chloride, and they're available in a variety of flavors. Saltstick FastChews are also gluten-free, vegan, and non-GMO.
If you're looking for a convenient and effective way to stay hydrated and energized during exercise, Saltstick FastChews and Race Ready Tubes are a great option.