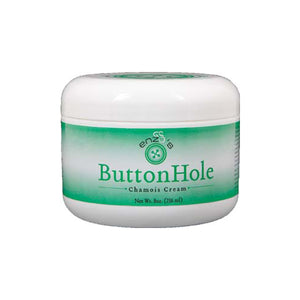 Enzo's Buttonhole Chamois Cream Cycling Product 8oz Jar
Regular price $24.00 $19.95 Sale
Grab a jar or packet of Enzo's Buttonhole Chamois Cream for your two-wheeled adventures - it's the top-notch, most dependable anti-chafe product in the biz. Your nether regions will be indebted!
Its signature minty goodness and all natural formula with ingredients like peppermint oil, cocoa seed butter, and sunflower seed oil are all made in the USA. You won't find parabens, mineral oil, or anything from our furry friends within its contents (that's right, it's vegan!).
Enzo's, engineered Enzo's ButtonHole Chamois Cream to reduce friction, inflammation and other sensations that make the button angry. The longer the button can stay on the saddle, the happier you and the button will be.
Enzo's combines melaleuca oil, hamamelis, the Wu-Chu-Yu herb and organic silicone compounds to produce the ultimate button protection.