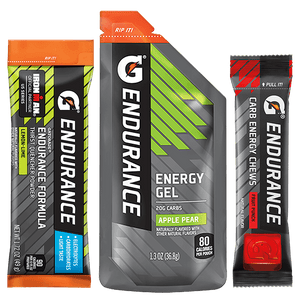 Gatorade Endurance Sampler Pack
Regular price $59.95 Sale
Gatorade Endurance Formula Sampler Pack. Add some variety to your fuel with the new Gatorade Endurance Sampler Pack. The sampler pack contains Lemon-Lime Gatorade Endurance Formula Powder Sticks, Gatorade Endurance Energy Gels Variety Pack and Fruit Punch Gatorade Endurance Energy Chews.

Pack Includes:
Endurance Formula Powder
Lemon-Lime, 12 Pack, 1.72oz
Gatorade Endurance Formula is a specialized sports drink designed to meet the demanding needs of endurance athletes who are training and racing for prolonged periods when fluid and electrolyte losses can be significant

Per 12oz serving, Gatorade Endurance formula contains: 90 calories, 310mg of sodium, 140mg of potassium and 22g of carbs

Gatorade Endurance Formula contains nearly twice the sodium (310 mg) and more than three times the potassium (140mg) of traditional Gatorade
Reformulated in Summer 2017, Gatorade Endurance Formula contains no artificial flavors and has a light taste
Gatorade Endurance Formula now offers a multi-carbohydrate blend to help endurance athletes maintain performance and lower the risk of stomach discomfort during a hard training session or race.
Gatorade Endurance Formula is found on more than 300 race courses nationwide, including the Ironman U.S. Series, Boston, Chicago and New York Marathons as well as the Rock 'n' Roll Marathon series.
Simply mix with water and shake until powder is dissolved.
Endurance Energy Gel Variety Pack
12 Pack, 1.3oz
Box of 12 gels; 3 count each of Blackberry, Apple Pear, Vanilla, and Mango flavors.
Gatorade Endurance Energy Gels provide 20g of carbohydrates that are easy and swallow with a smooth mouth feel
Gatorade Endurance Energy Gels were specifically formulated to meet the unique needs of endurance athletes who are training and racing for prolonged periods of time when fluid and electrolyte loss can be significant
The gel should be consumed shortly before or during prolonged training or racing (2.5 hours+). It is recommended that the gel be consumed with water to decrease risk of GI distress
One serving of Gatorade Endurance Energy Gel provides 20 grams of carbohydrates, 100mgs of sodium and 80 calories
Endurance Carb Energy Chews
Fruit Punch, 21 Pack, 38g
Gatorade Endurance Carb Energy Chews are gummy chews that provide energy when consumed prior to and during prolonged racing or training (2.5 hours+)
The gummy texture is easy to chew and swallow, so fueling up won't slow you down
Per serving (4 chews) Gatorade Endurance carb energy chews contain 120 calories, 31 grams of carbohydrates, 110mg of sodium and 55mg of potassium