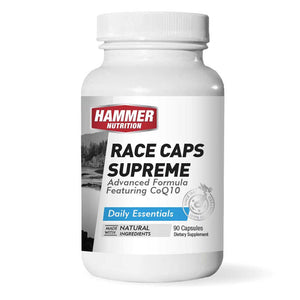 Hammer Nutrition Race Caps Supreme | Premium Energy Supplement with CoQ10
Regular price $54.95 Sale
Hammer Nutrition Race Caps Supreme, a Premium Energy Supplement with CoQ10. Increased energy, prolonged endurance, enhanced recovery, and improved immunity—these are just a few of the benefits Race Caps Supreme has delivered to our customers for over three decades. It's the original endurance supplement, and still second to none. With potent sources of coenzyme Q10 and idebenone, along with a host of other cellular energy catalysts to maximize assimilation, Race Caps Supreme works to replenish critical nutrients not available from dietary sources. Race Caps Supreme is THE supplement that provides a truly wide range of benefits for enhancing both athletic performance and overall health, and everyone—athlete and non-athlete alike—would benefit tremendously from daily use. It's time to unleash your full potential and experience the power of Race Caps Supreme. With its unique combination of CoQ10 and other essential micronutrients, take advantage of the lasting plunge of energy and drive that comes with this endurance supplement. Reach beyond your own boundaries to go further, faster, and stronger.


Fuel your body with Hammer Nutrition Race Caps Supreme! Our premium energy supplement contains Coenzyme Q10 (CoQ10) -- a fat-soluble, vitamin-like compound also known as ubiqinone -- plus Idebenone, Vitamin E, OxyAssist (TMG & Inosine blend) & Krebs Cycle Intermediates. Plus, an enzyme blend of protease, amylase, glucoamylase, lipase, cellulase, phytase, maltase & sucrase, as well as Bioperine® and PQQ. Conquer whatever comes your way!
Race Caps Supreme
Supplement Facts

Serving Size 3 Capsules
Servings Per Container 30
 
Amount Per Serving
% Daily Value*
Vitamin E (as d-Alpha Tocopherol Succinate)
268mg
1787%
Calcium (as calcium chelate krebs cycles intermediates)
75mg
6%
Magnesium (as magnesium chelate krebs cycles intermediates)
51mg
12%
Potassium (as potassium chelate krebs cycles intermediates)
23mg
<1%
Mito-Matrix™
(A propriety blend of Coenzyme Q10, Idebenone, Alpha-ketoglutarate and Bioperine) Bioperine® (95% 1-piperoylpiperidine from piper nigrum fruit)
Bioperine is a trademark of Sabinsa Corp.
216mg
†
OxyAssist™
(A proprietary blend of Trimethylglycine and Inosine)
699mg
†
Enzyme Blend (Amylase, Lipase, Phytase, Protease, Glucoamylase, Cellulase, Sucrase, and Maltase)
24mg
†
PQQ (Pyroloquinoline quinone)
2.5mg
†
* The Percent Daily Values are based on a 2,000 calorie diet. Your daily values may be higher or lower depending on your calorie needs.
† Daily Value not established.
Other Ingredients: Vegetable Capsules (plant cellulose and water), Rice Bran (Oryza sativa)

These statements have not been evaluated by the Food and Drug Administration. This product is not intended to diagnose, treat, cure or prevent any disease.