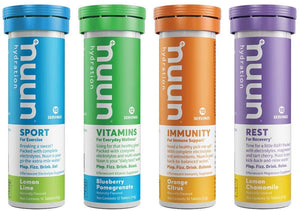 Nuun Complete Pack: Sport, Vitamins, Immunity, and Rest Hydration Drink Tablets, Mixed, 42 Count
Regular price $26.19 Sale
Nuun Complete hydration 4-Pack includes our four most popular hydration products to keep you hydrated on all occasions with complete electrolytes and clean ingredients

Nuun Sport is exercise hydration bursting with fruity flavor and only 15 calories. Nuun Sport is designed to replace what is lost when you sweat. 10 servings per tube.

Nuun Vitamins is everyday hydration packed with 11 vitamins and minerals, plus complete electrolytes for an easy, tasty hydration boost during your daily activities. 12 servings per tube.

Nuun Immunity is immune system support hydration loaded with botanicals, minerals, electrolytes, Antioxidants, and Anti-inflammatories for a hydrating helping of ongoing immune support. Enjoy hot or cold. 10 servings per tube.

Nuun Rest is rest and recovery hydration formulated to support the body's natural relaxation functions with magnesium, potassium, tart Cherry, and electrolytes. Enjoy hot or cold. 10 servings per tube.
Ingredients
Sport - Active ingredients: Sodium (bicarbonate and carbonate), potassium (bicarbonate and chloride), magnesium (oxide), calcium (carbonate), Other ingredients: Citric acid, dextrose, natural flavors, stevia leaf extract, rice extract blend, avocado oil, beet juice powder (for color), riboflavin (for color), spirulina (for color), malic acid - Vitamins - Active Ingredients: Vitamin C (as ascorbic acid), Vitamin B6 (as pyridoxal-5 phosphate),
 Vitamin A (as beta carotene), Vitamin D (as ergocalciferol), Vitamin E (as d-alpha tocopherol acetate), Folic Acid, Calcium (as calcium carbonate), Magnesium (as magnesium oxide), Chloride (as Himalayan Sea Salt),
 Sodium (as Himalayan Sea Salt, sodium bicarbonate), Potassium (as potassium bicarbonate), Other Ingredients: Dextrose, Citric Acid, Natural Flavors, Beet Juice Powder (for color), Stevia Leaf Extract, Avocado Oil, Rice Concentrate, Riboflavin (for color) - Immunity - Active ingredients: Elderberry extract, organic ginger root powder, organic turmeric, echinacea purpurea, vitamin a (as beta carotene), vitamin c (as ascorbic acid), vitamin d (as ergocalciferol), vitamin e (as d-alpha tocopherol), calcium (as calcium carbonate), magnesium (as magnesium oxide), zinc (as zinc sulfate), selenium (as selenium rice chelate), chloride (as himalayan sea salt), sodium (as sodium bicarbonate, himalayan sea salt), potassium (as potassium bicarbonate). Other ingredients: Dextrose, citric acid, natural flavors, beet powder color, stevia leaf extract, avocado oil, rice concentrate. - Rest - Active ingredients: Magnesium (as Magnesium Carbonate, Magnesium Oxide, Magnesium Citrate), Sodium (as Sodium Bicarbonate), Potassium (as Potassium Bicarbonate, Potassium Carbonate) Other ingredients: Citric Acid, Dextrose, Whole Tart Cherry Powder Extract, Natural Flavors, Malic Acid, Avocado Oil, Beet Powder Color, Elderberry Extract, Stevia Leaf Extract