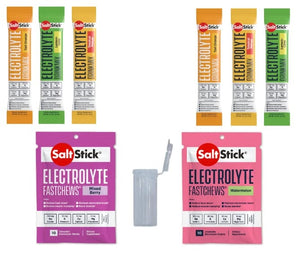 SaltStick Powder Drink Mix Variety Pack And Fastchews and Race Tube - Lemon Lime Orange Mango Berry And Watermelon
Regular price $16.95 $14.95 Sale
Be sure to fuel up your race-day adventure with this SaltStick Variety Pack! Including 5 delicious flavors – Lemon Lime, Orange Mango, Berry, Watermelon and Fastchews – you'll never get stuck in a flavor rut. And with the included Race Tube you can easily take your electrolytes on the go! Get going, racer!
What You Get: One 10ct packet of watermelon and mixed berry AND 6 packets powder drink mix - two each of mango, lemon lime and orange.

Try the 3 New Powder Drink Mix: You get 2 tropical mango, 2 tart orange and 2 lemon lime. 6 packets total as pictured.

Try Two New Amazing SaltStick FASTCHEWS Flavors: One 10-tablet zip-lock pouch each: Mixed Berry and Watermelon

FOR FASTCHEWS:NATURAL flavor, NO artificial sweeteners or colors, VEGETARIAN, GLUTEN-FREE, NON-GMO, & ONLY 10 calories per Serving! Adult 2-tablet serving every 15-30 minutes during physical activity: 100 mg Sodium, 30 mg Potassium, 10 mg Calcium, and 6 mg of Magnesium!

Drink mix: Sugar-Free Electrolyte Powder Drink Mix for Hydration, Gluten-Free, Non-GMO, Keto, and Vegan Friendly

Ideal for teens and adults, providing rehydration for running, cycling, soccer, football, weight lifting, hiking, camping, and more
DrinkMix helps keep you hydrated and prevent cramping, whatever your activity. It contains the right electrolyte ratio of clean, natural ingredients and no sugar, allowing you to stay replenished even when you sweat. Enjoy the benefits of electrolyte balance and heat stress prevention, all with an easy-to-mix formula.