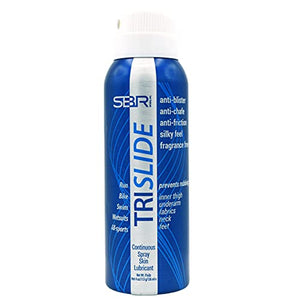 TRISLIDE Anti-Chafe Continuous Spray Skin Lubricant Body Friction Protection
Regular price $19.98 $19.98 Sale
Trislide Anti-Chafe by SBR Sports - the perfect companion for your adventure! Our liquid silicone-based anti-chafe spray provides you with the best defense against chafing, blisters, and irritation. It's water-resistant and sweat-proof, fragrance-free, non-greasy, and suitable for use on skin, clothes, and gear. So go ahead and tackle your next challenge – hassle-free!
Trislide is available in a convenient aerosol spray can, making it easy to apply. Simply spray the product onto the affected area and rub it in until it is absorbed. Trislide can be used as often as needed, and it is safe to use on all skin types.
Trislide is a great way to prevent chafing and irritation. It is a safe, effective, and convenient product that can be used by athletes of all levels.
Here are some of the benefits of using Trislide:
Prevents chafing, blistering, and irritation
Water-resistant and sweat-proof
Fragrance-free and non-greasy
Convenient aerosol spray can
Safe for all skin types
If you are looking for an effective way to prevent chafing, then Trislide is the perfect product for you. It is a safe, convenient, and effective way to keep your skin chafe-free.